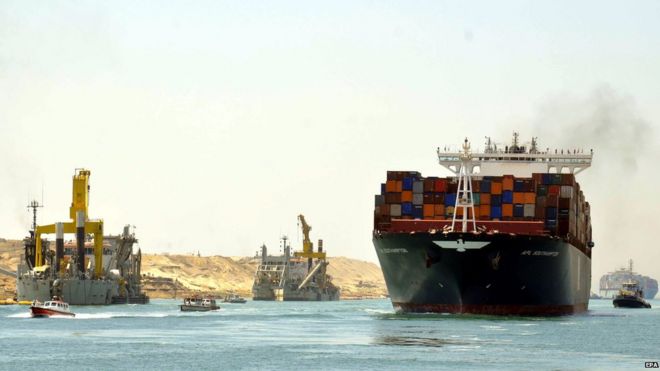 The first cargo ships have passed through Egypt's second Suez Canal, amid tight security, ahead of the new waterway's official opening next month.
Construction on the new lane, which runs alongside part of the existing canal,started less than a year ago
In August 2014, construction was launched to construct a second canal, the New Suez Canal, for half of the route of the canal,to increase the canal's capacity.
The expansion is expected to double the capacity of the Suez Canal from 49 to 97 ships a day
The 72km (44 mile) route allows two-way traffic and can accommodate larger vessels.
Several container ships from around the world successfully navigated it on Saturday July 25,2015 as part of a trial run.
Helicopters and naval vessels escorted the ships as part of the security operation.
Work on the second waterway is estimated to have cost about $8.5bn (£5.4bn) and is being carried out by the army around the clock.
It will be formally inaugurated on 6 August - one year after construction started - meeting an ambitious target set out by Egyptian President Abdel Fattah al-Sisi.
The project has been labelled "a rebirth" for Egypt by the head of the Suez Canal Authority, Adm Mohab Mameesh.
About Suez Canal
The
Suez Canal
is an artificial sea level waterway in Egypt connecting the Mediterranean Sea and Red Sea
Suez Canal was opened November 17,1869, after 10 years of construction, it allows ships
to travel between Europe and South Asia without navigating around Africa thereby reducing the sea voyage distance between Europe and India by about 7,000 kilometres (4,300 mi).
When built, the canal was 164 km (102 mi) long and 8 m (26 ft) deep. After several enlargements, it is 193.30 km (120.11 mi) long, 24 m (79 ft) deep and 205 metres (673 ft) wide
The canal is single-lane with passing places in the "Ballah By-Pass" and the Great Bitter Lake
It contains no locks; sea water flows freely through it
The canal is owned and maintained by the Suez Canal Authority
(SCA) of Egypt