Beijing was selected Friday July 31,2015 to host the 2022 Winter Olympics, becoming the first city awarded both the winter and summer games
Beijing narrowly defeated Almaty, Kazakhstan, in a vote of the International Olympic Committee. The vote was surprisingly close: 44-40
The Chinese capital, which hosted the 2008 Summer Olympics, came in to the vote as the strong favorite, despite its lack of natural snow.
The International Olympic Committee announced on Friday that Beijing will host the Winter Games in 2022. China's Vice Premier Liu Yandong made the country's bid presentation to the IOC.

|
The Beijing delegation react at the IOC meeting in Kuala Lumpur on July 31, after being revealed as the 2022 hosts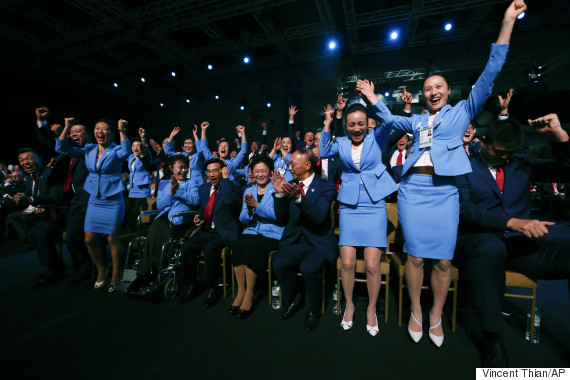 The 2022 Winter Olympics is to be hosted in Beijing, prompting anger from human rights campaigners about China's treatment of its citizens - and bafflement from people who pointed out there is little snow.
Beijing was announced as the host today, beating out the only competitor, Almaty, the capital of Kazakhstan.
Almaty, which lost the vote 44 to 40, used the slogan "Keeping It Real", a dig at Beijing's snow issue.
Campaigners Human Rights Watch (HRW) said choosing Beijing meant China faced "massive challenges in fulfilling its expressed commitment to human rights".