England won the First Test Match at Cardiff by 169 Runs and lead the 5-Matche Series 1-0
It has been 14 years for Australia to have won a test series in England
Australia have had a great 2015 so far.
A tri series (Australia,England and India)win at home was followed by a World Cup win. Then the Kangaroos simply massacred the West Indians in the Caribbean.
Ashes Result Summary

Total Tests = 336
Australia 138, England 105, Draws 93.
In Australia = 175
Australia 91, England 57, Draws 27.
In England = 161
England 48, Australia 47, Draws 66.
Australia and England have played 77 Ashes series till now, with Australia winning 37 of them and England 32 while 8 finished as draws.
Interestingly, both teams have whitewashed each other 3 times
The Last Four Ashes Series Results
2013-14 in Australia -Australia beats England 5-0
2013 in England - England won the series 3-0 with wins at Trent Bridge,Lord's and Riverside Ground,Durham and the matches at the Old Trafford and Th Oval drawn
2010-11 in Australia - England won the series 3–1 with wins at ,Adelaidw,MCG and Sydney,drawing the Brisbane Test and losing theTest at Perth
2009 in England -England won the series 2-1 with wins at Lord's and The Oval,drawing the two test matches at - Cardiff and Edgbaston and losing the test match at Headingly,Leeds
2015 The Ashes Series Result
First Test Match @ Cardiff July 08-11,2015
England 430 and 289
Australia 308 and 242
Match Result -England won by 169 Runs
MOM - Joe Root for his 134 and 60 and 2/28(6 Overs in the 2nd innings

Second Test Match @ Lord's July 16-19,2015
Australia 566/8 Declared and 254/2 Declared
England 312 and 103
Match Result - Australia won by 405 Runs
MOM - Steve Smith for his 215 and 58 Runs
Third Test Match @Edgbaston,Birmingham July 29 - 31,2015
Australia 136 and 265
England 281 and 124/2
Match Result - England won by 8 wickets
MOM - Steven Finn(England )for his 2/38(10 Overs)and 6/79(21 Overs)
Team News for the Edgbaston Test Match
England's victory in Cardiff was followed by a punishing defeat at Lord's, and it is the task of Alastair Cook and Trevor Bayliss to ensure that Australia do not carry significant momentum from that result. England's form in their most recent six Tests - win, loss, win, loss, win, loss - might hint at bouncebackability, but it should be noted that the first two losses each marked the end of a series, so the wins that followed were against new opponents

England selectors dropped

Gary Ballance and recall Jonny Bairstow, who last played Test cricket during the Ashes tour of Australia in 2013-14.

England's un-Ballanced side needed some rearranging, so Bell will move up to No. 3, with Joe Root at No. 4 and Bairstow to slot in at No. 5

Australia have confirmed that Peter Nevill will be retained ahead of Brad Haddin, who withdrew from the Lord's Test for family reasons

Peter

Nevill has retained his spot after a strong debut, and Chris Rogers appears set to play despite suffering a dizzy spell at Lord's. That might mean an unchanged XI, and Australia will hope not to add to their recent history of last-minute changes in Edgbaston Tests

Day One Wednesday July 29,2015

England

Alastair Cook(C),Adam Lyth,Ian Bell,Joe Root,Jonathan Bairstow,Ben STokes,Jos Butler(WK),Moeen Ali,Stuart Broad,Steven Finn and James Anderson

Australia

David Warner,Chris Rogers,Steve Smith ,Michael Clarke,Adam Voges,Mitchell Marsh,Peter Nevill(WK),Mitchell Johnson,Mitchell Starc,Josh Hazlewood and Nathan Lyon

Australia won the toss and chose to bat first




Australia

Scored 136/10 in 36.4 overs

Fall of Wickets(Australia)

David Warner 02(6 Balls)

Steve Smith 07(18 Balls 4x1)

Michael Clarke 10(10 Balls 4x2)

Adam Voges 16(34 Balls 4x3)

Mitchell Marsh 00(3 Balls)

Peter Nevill 02(8 Balls)

Mitchell Johnson 03(6 Balls)





Chris Rogers 52(89 Balls 4x9) -13th Test Match Fifty in 23 Tests(45 Innings)

Mitchell Starc 11(20 Balls 4x1)

Nathan Lyon 11(11 Balls 4x2)

Josh Hazzlewood 14*(16 Balls 4x3)

Wicket Takers (England)

James Anderson 6/47(14.4 Overs)

Steven Finn 2/38(10 Overs)

Stuart Broad 2/44(12 Overs)




England Scored 133/3 in 29 Overs

Fall of Wickets(England)

Adam Lyth 10(30 Balls 4x1)

Alastair Cook 34(48 Balls 4x5)

Ian Bell 53(56 Balls 4x10)-44th Test Match Fifty in 113 Test(195 Innings)

Joe Root 30*

Jonny Bairstow 01*




Day Two Thursday July 30,2015

Resuming from 133/3,England scored 281/10 in 67.1 Overs

Fall of Wickets(England)

Jonny Bairstow 05(12 Balls 4x1)

Ben Stokes 00(2 Balls)

Joe Root 63(75 Balls 4x9 and 6x1)-13th Test Match Fifty in 30 Tests (54 Innings)

Jos Butler 09(38 Balls 4x1)

Stuart Broad 31(55 Balls 4x3)

Moeen Ali 59(78 Balls 4x11)-4th Test Match Fifty in 14 Tests (22 Innings)

James Anderson 03(2 Balls)

Steven Finn 00*(7 Balls)

Wicket Takers(Australia)

Nathan Lyon 3/36(13 Overs)

Josh Hazzlewood 3/74(15 Overs)

Mitchell Johnson 2/66(16 Overs)

Mitchell Starc 2/71(16.1 Overs)

Australia 2nd Innings 168/7 in 55 Overs

Fall of Wickets(Australia)

Chris Rogers 06(13 Balls 4x1)

Steve Smith 08(27 Balls 4x1)

Michael Clarke 03(19 Balls)

Adam Voges 00(1 Ball)

Mitchell Marsh 06(24 Balls)

David Warner 77(62 Balls 4x11)-17th Test Match Fifty in 41 Tests(78 Innings)

Mitchell Johnson 14(38 Balls 4x1)

Mitchell Johnson Joins 300 Wickets Club
Mitchell Johnson became the fifth Australian to pass the 300-wicket milestone with the third ball of his opening over, producing a snorting, short-pitched delivery that a leaping Bairstow could only fend to Peter Nevill behind the stumps
The pair - Mitchell Johnson and Peter Nevill combined again two balls later when Ben Stokes became Johnson's 301st victim with another venomous effort that cannoned off the batsman's gloves to give the tourists the perfect start after the first day dominated by the hosts
Mitchell Johnson achieved the feat of taking 300+ test wickets in just 69 Tests, at an average of 27.62
In recent years Mitchell Johnson has been England's bête noire, picking up 47 wickets in eight matches against Alastair Cook's side since 2013, at a frightening average of just 17.19
Cricket Australia decided to honour Johnson's personal milestone with a bizarre tweet depicting the fast bowler as King Leonidas from the film 300
Mitchell Johnson becomes only the fifth Australian bowler to reach 300 wickets, and is now just nine victims behind Brett Lee who retired in 2008 with 310 Test Wickets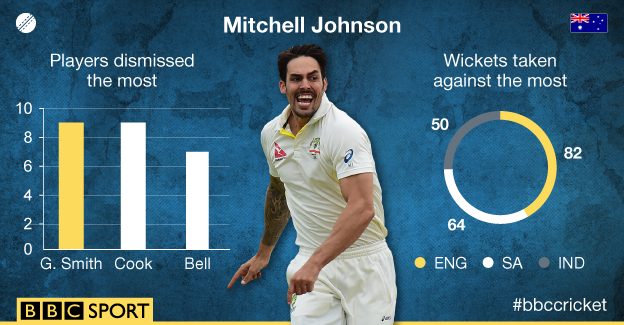 Mitchell Johnson's milestone was clocked up in his 69th Test - in quicker time than Lee, who recorded the feat in his 73rd appearance, but behind Lillee (56), Warne (63) and McGrath (64)
Day Three Friday July 31,2015
Resuming from 168/7,Australia scored 265/10 in 79.1 Overs
Fall of Wickets(Australia)
Peter Nevill 59(147 Balls 4x7)-Maiden Test Match Fifty
Josh Hazzlewood 11(20 Balls 4x1)
Mitchell Starc 58(108 Balls 4x6 and 6x1)-5th Test Match Fifty in 20 Test(30 Innings)
Nathan Lyon 12*(16 Balls 4x2)
Wicket Takers(England)
Steven Finn 6/79(21 Overs)
James Anderson 1/15(8.3 Overs)
Ben Stokes 1/28(11 Overs)
Stuart Broad 1/61(20 Overs)
Moeen Ali 1/64(16.1 Overs)
England 2nd Innings Scored 124/2 in 32.1 Overs( Target 121 Runs )
Fall of Wickets(England)
Alastair Cook 07(12 Balls)
Adam Lyth 12(28 Balls 4x3)
Ian Bell 65*(90 Balls 4x10) -
45th Test Match Fifty in 113 Test(196 Innings)
Joe Root 38*(63 Balls 4x6 and 6x1)
Wicket Takers(Australia)
Josh Hazzlewood 1/21(7 Overs)
Mitchell Starc 1/33(6 Overs)
Scorecard
Australia 136 and 265
England 281 and 124/2
Match Result - England won by 8 wickets
MOM - Steven Finn(England)
Series Result -
England led the 5-match series 2-1
England thrashed Australia by eight wickets within three days in the Ashes Edgbaston Test to complete a remarkable turnaround after their 405-run defeat in the second Test at Lord's
Victory achieved on Day Three with more than two days to spare, saw England go 2-1 up in the five-match Ashes series
Ian Bell delighted a capacity crowd at his Warwickshire home ground with a sparkling unbeaten fifty as England beat Australia by eight wickets to win the third Test at Edgbaston on Friday July 31,2015

Ian

Bell was 65 not out and Joe Root, who struck the winning boundary off Mitchell Marsh, 38 not out

James Anderson, England's all-time most successful Test bowler but wicketless in the 2nd Test Match at Lord's, led the way with an Ashes-best six for 47 as Australia were dismissed for just 136 in their first innings.
However,on Friday July 31,2015, he had been ruled out of both the remainder of this match and next week's fourth Test at Trent Bridge with a side strain suffered while bowling on Thursday July 30,2015
Earlier Australia resumedfrom 168/7, 23 runs ahead and the two not out batsmen overnight, Peter Nevill and Starc, both went on to make fifties and shared an eighth-wicket stand of 64 that boosted Australia's second innings total to 265 all out.
England fast bowler Steven Finn, recalled for his first Test in two years following an injury to Mark Wood, led the attack with his best figures
This was the first Ashes Test to feature no centuries since the Sydney Test in January 2007
James Anderson and Steven Finn are the first pair of England bowlers to take six-wicket hauls in an Ashes Test since Ian Botham and Bob Willis in the Headingley Test of 1981.
Michael Clarke has now lost 10 Tests in England -the most ever by an Australian