Former President APJ Abdul Kalam tweets his Budget expectations, says "I wish a #Budget2015 which focuses on two things..equitable education and quality health care for all..This is best investment we can make."
"A budget 'Made in India' will 'Make India', strengthening all sections of society. All inclusive,policy driven, measurable,accountable," tweets BJP leader Kiran Bedi.
Ahead of Union Budget 2015-16, Sensex opens over 200 points up, Nifty up by over 70 points in opening trade
Arun Jaitley carrying his briefcase of Budget documents outside his office in North block. Along with him is Minister of State for Finance Jayant Sinha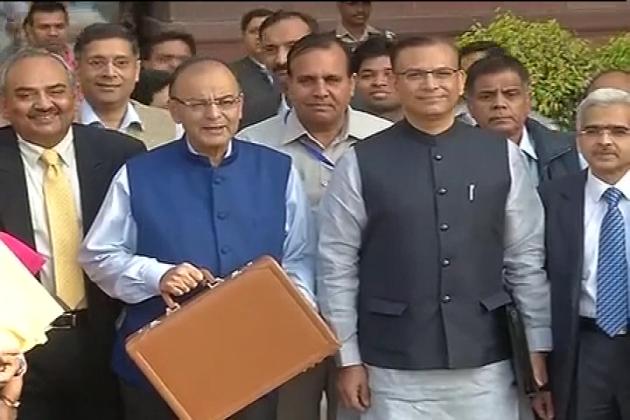 Cabinet approves Union Budget 2015-16. It will be presented by Arun Jaitley in Parliament at 11 am.
At 11.07 A.M - Finance Minister Arun Jaitley presents Union Budget 2015-16 in Parliament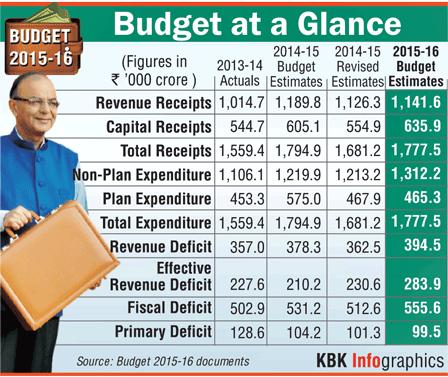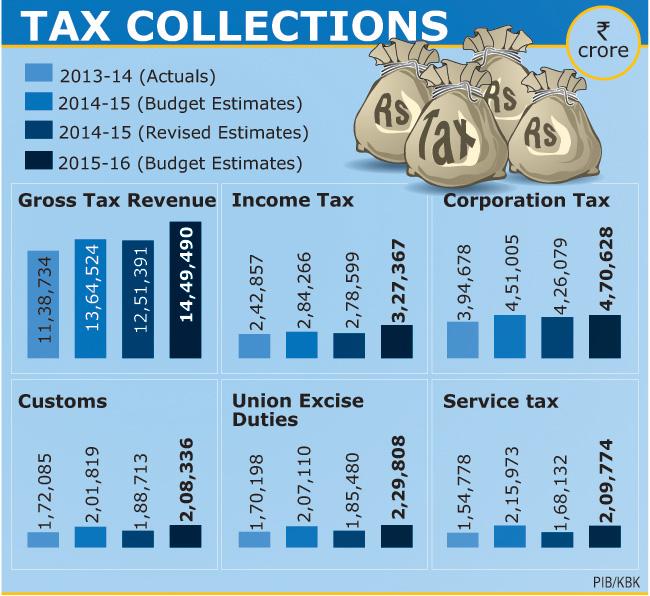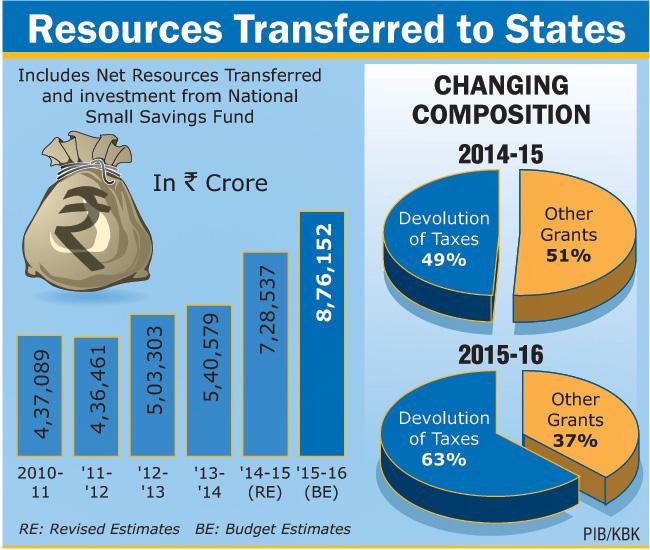 Taxatiom
1

Abolition of Wealth Tax.


---

2

Additional 2% surcharge for the super rich with income of over Rs. 1 crore.


---

3

Rate of corporate tax to be reduced to 25% over next four years.



---

4

No change in tax slabs.


---

5

Total exemption of up to Rs. 4,44,200 can be achieved.


---

6

100% exemption for contribution to Swachch Bharat, apart from CSR.


---

7

Service tax increased to14 per cent.


---
8 Employee Provident Fund has been made optional. Firstly, the employee may opt for EPF or the New Pension Scheme (NPS). Secondly, for employees below a certain threshold of monthly income, contribution to EPF should be optional, without affecting or reducing the employer's contribution.
Agriculture
1

Rs. 25,000 crore for Rural Infrastructure Development Bank.


---

2

Rs. 5,300 crore to support Micro Irrigation Programme.


---

3

Farmers credit - target of 8.5 lakh crore.
INFRASTRUCTURE
1

Rs. 70,000 crores to Infrastructure sector.


---

2

Tax-free bonds for projects in rail road and irrigation


---

3

PPP model for infrastructure development to be revitalised and govt. to bear majority of the risk.


---

4

Atal Innovation Mission to be established to draw on expertise of entrepreneurs, and researchers to foster scientific innovations; allocation of Rs. 150 crore.


---

5

Govt. proposes to set up 5 ultra mega power projects, each of 4000MW.


---
EDUCATION
1

AIIMS in Jammu and Kashmir, Punjab, Tamil Nadu, Himachal Pradesh, Bihar and Assam.


---

2

IIT in Karnataka; Indian School of Mines in Dhanbad to be upgraded to IIT.


---

3

PG institute of Horticulture in Amritsar.


---

4

Kerala to have University of Disability Studies


---

5

Centre of film production, animation and gaming to come up in Arunachal Pradesh.


---

6

IIM for Jammu and Kashmir and Andhra Pradesh.


---
DEFENCE
1

Allocation of Rs. 2,46,726 crore; an increase of 9.87 per cent over last year.


---

2

Focus on Make in India for quick manufacturing of Defence equipment.


---
WELFARE SCHEMES
1

GST and JAM trinity (Jan Dhan Yojana, Aadhaar and Mobile) to improve quality of life and to pass benefits to common man.




---

2
Six crore toilets across the country under the Swachh Bharat Abhiyan.


---

3
MUDRA bank will refinance micro finance orgs. to encourage first generation SC/ST entrepreneurs.


---

4
Housing for all by 2020.


---

5
Upgradation 80,000 secondary schools.


---

6
DBT will be further be expanded from 1 crore to 10.3 crore.


---

7
For the Atal Pension Yojana, govt. will contribute 50% of the premium limited to Rs. 1,000 a year.


---

8
New scheme for physical aids and assisted living devices for people aged over 80 .


---

9
Govt. to use Rs. 9,000 crore unclaimed funds in PPF/EPF for Senior Citizens Fund.


---

10
Rs. 5,000 crore additional allocation for MGNREGA.


---

11
Govt. to create universal social security system for all Indians.


---
RENEWABLE ENERGY
1

Rs. 75 crore for electric cars production.




---

2

Renewable energy target for 2022: 100K MW in solar; 60K MW in wind; 10K MW in biomass and 5K MW in small hydro




---
TOURISM
1

Develpoment schemes for churches and convents in old Goa; Hampi, Elephanta caves, Forests of Rajasthan, Leh palace, Varanasi , Jallianwala Bagh, Qutb Shahi tombs at Hyderabad to be under the new toursim scheme.




---

2

Visa on Arrival for 150 countries.




---
GOLD
1

Sovereign Gold Bond, as an alternative to purchasing metal gold.




---

2

New scheme for depositors of gold to earn interest and jewellers to obtain loans on their metal accounts.




---

3

To develop an Indian gold voin, which will carry the Ashok Chakra on its face, to reduce the demand for foreign coins and recycle the gold available in the country.




---
FINANCIAL SECTOR
1

Forward Markets Commission to be merged with the Securities and Exchange Board of India




---

2

NBFCs registered with the RBI and having asset size of Rs 500 crore and above to be considered as 'financial institution' under Sarfaesi Act, 2002, enabling them to fund SME and mid-corporate businesses




---

3

Permanent Establishment norms to be modified to that mere presence of offshore fund managers in the country does not lead to "adverse tax consequences."




---
M
ajor announcements made by the Finance Minister Arun Jaitley are:
Five "ultra mega" power projects of 4,000 megawatts (MW) will be built to ease the energy crisis
Spending on infrastructure will be raised by $11.3bn (£7.32bn) to boost growth
Creating a "universal social security" that would give poor Indians access to subsidised insurance and pensions
Implementation of a uniform countrywide goods and services tax (GST) by April 2016
Welfare money to be paid directly into people's bank accounts to eliminate corruption and wastage
Wealth tax to be abolished and replaced by a surcharge on the super rich
Corporate tax to be cut by 25% over next four years