So, it's nearly time. Five Test matches over six weeks and the first of those starts in Edgbaston on Wednesday.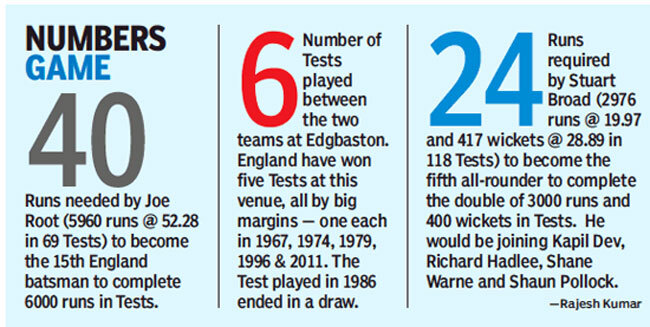 India have been in these parts for over a month now, playing limited overs matches and a token warm-up game, but on the eve of the Test, there is a lot to ponder for the visiting team as far as their composition is concerned.
Historically, India have struggled at Birmingham. The two teams have clashed six times at this venue, with England winning five and one draw in 1986. The added incentive for the hosts of course is to put in a strong performance on a historic occasion as they become the first team to feature in 1000 Tests.
Looking at the last five encounters between the two sides, India find themselves having the upper hand, having won four match (all victories coming on Indian soil). However, in England, MS Dhoni-led Indian team were trounced 0-4 and 1-3 on their last two tours in 2011 and 2014 respectively.
For India to better that dismal record in this series, they will need to ensure they put their best foot forward. And for that to happen, there's a few problem areas to overcome.
England's story in Test cricket as they reach 1,000 games
England will become the first team to reach the landmark when they take on India from Wednesday Aug 01,2018
England's first Test against India will be their 1,000th in all since facing Australia in the first ever Test in 1877
England have played Tests against nine different opponents – Australia, Bangladesh, India, New Zealand, Pakistan, South Africa, Sri Lanka, the West Indies and Zimbabwe.
Their best winning records, perhaps unsurprisingly, have come against Bangladesh (nine out of 10) and Zimbabwe (played six, won three and drawn three).
The next best is against New Zealand (46.6 per cent) while their 36.8 per cent win rate against upcoming opponents India is in the middle of the pack, just ahead of their 31.2 per cent against old foes Australia.
Pakistan have proved England's toughest opponents, with just 25 wins in 81 meetings (30.1 per cent).
England's win percentage dropped from 41.2 in 243 Tests before the second World War to 34 per cent in 756 post-war matches.
In an encouraging return to form, the 2000s was their best decade by winning percentage (42.6) since the 1950s (47 per cent), and they have surpassed that mark again since 2010 with a 43.4 per cent win rate up to the start of the India series.
England's most successful decade ever was the 1910s, when they won two thirds of their 21 Tests.
England records
Most runs: AN Cook 12,145
Best batting average: H Sutcliffe 60.73
Best innings: L Hutton 364 v Australia, August 1938
Most hundreds: AN Cook 32
Most wickets: JM Anderson 540
Best bowling average: GA Lohmann 10.75
Best innings figures: JC Laker 10 for 53 v Australia, July 1956
Best match figures: JC Laker 19 for 80 v Australia, July 1956
Most five-wicket innings: IT Botham 27
Most 10-wicket matches: SF Barnes 7
Bowling
James Anderson and Stuart Broad lead the way in terms of wickets for England with 540 and 417 respectively.
Ian Botham (383), Bob Willis (325) and Fred Trueman (307) are the other players to break the 300 barrier with England's all-time leading spinner, Derek Underwood, just outside at 297. Fifteen players in all have taken 200 or more, with 46 reaching three figures.
With a cut-off of at least 2,000 balls bowled, 24 players have bowling averages under 25 and eight have broken under 20, led by George Lohmann with 112 wickets at 10.75 between 1886 and 1896. Anderson's 27.23 is the best average in the current squad.
Batting
Alastair Cook's record 12,145 Test runs for England is more than 3,000 clear of second-placed Graham Gooch (8,900), and he also has comfortably the most Test centuries – nine clear on 32.
Twenty-two players have scored over 5,000 Test runs for England while 48 have averaged 40 or above, with nine breaking the 50 barrier.
England batsmen have made 856 centuries, including 57 double-hundreds and five triples – Len Hutton against Australia in 1938, Wally Hammond against New Zealand in 1933, Gooch against India in 1990, Andy Sandham against the West Indies in 1930 and John Edrich against New Zealand in 1965.