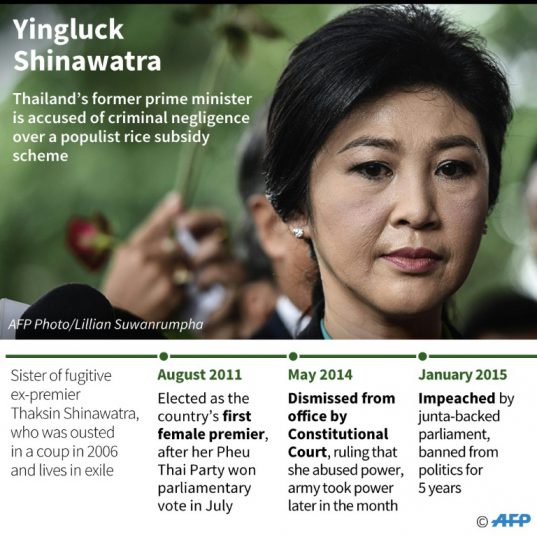 Thailand authorities have frozen seven bank accounts belonging to ex-premier Yingluck Shinawatra over a USD 1 billion fine she faces for her administration's controversial rice subsidy scheme, her lawyer said on Tuesday July 25,2017
The move is seen as unprecedented because it financially sanctions an elected leader for a government policy and it is the latest in a barrage of legal battles she has had to fight since she was booted from office.
Thailand's first female prime minister, whose government was toppled in a 2014 coup, is already facing up to a decade in jail for allegedly failing to stop graft in the subsidy programme that targeted her party's rural farming base.
She was also retroactively impeached soon after the coup, a move that banned her from politics for five years. Yingluck's legal team had petitioned for an injunction against the USD 1 billion fine -- which dwarfs the roughly USD 18 million she has in publicly declared assets.
But the Finance Ministry said yesterday it was moving ahead with the order and planned to seize at least 12 accounts belonging to the embattled politician as an initial measure. Yingluck's lawyer confirmed today that at least seven accounts had now been locked.
"Bangkok Bank notified us that seven of her bank accounts have been frozen and cannot carry out any transactions," Noppadon Laowthong told