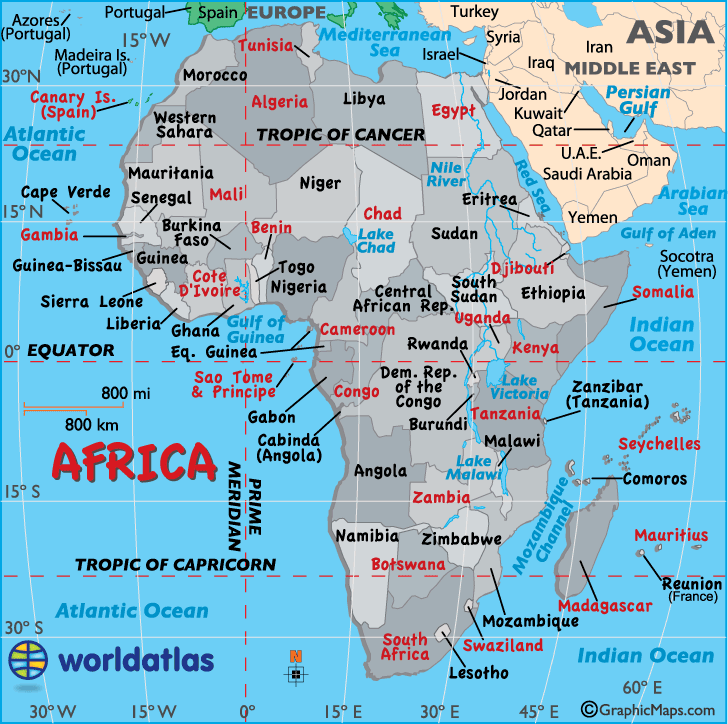 The 2017 Kenyan General Election is sscheduled to be held on Tuesday Aug 08,2017 to elect the President,Members of Parliament
(Senate and National Assembly)
and
county governors and member of county assembly (MCAs)
The Kenyan Constitution requires there to be a general election on the second Tuesday in August in every fifth year.
Electoral System
The remaining 47 are reserved for women, and are elected from single-member constituencies based on the
47 counties
, also using the first-past-the-post system
The 67 members of the
Senate
are elected by four methods; 47 are elected in single-member constituencies based on the counties by first-past-the-post voting. Parties are then assigned a share of 16 seats for women, two for youth and two for disabled people based on their seat share
Kenya's Election in Numbers
Six separate ballot papers

: For president, national assembly, female representatives, governors, senate and county assemblies

47 parliamentary seats

and 16 senate seats reserved for women

Eight presidential candidates

: President Uhuru Kenyatta and opposition leader Raila Odinga are favourites
Kenyatta beat Odinga in 2013 - their fathers were also political rivals in the 1960s
A candidate needs

50% plus one

vote for first-round victory
More than

14,000 candidates

running across the six elections
More than

45% of registered voters under 35

Some

180,000 security officers

on duty nationwide in case of trouble
Presidential Election Result
Voting passed off largely peacefully and some polling stations remained open after the scheduled 17:00 (14:00 GMT) closing tim
Raw polling data published on the website of the Independent Electoral and Boundaries Commission (IEBC) says that with almost 97% of results in, Mr Kenyatta - who is seeking a second term - is leading with about 54.3%, to Mr Odinga's 44.8% share of the vote.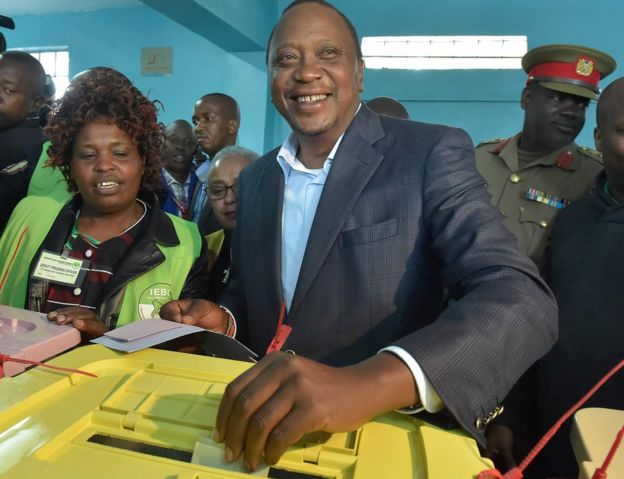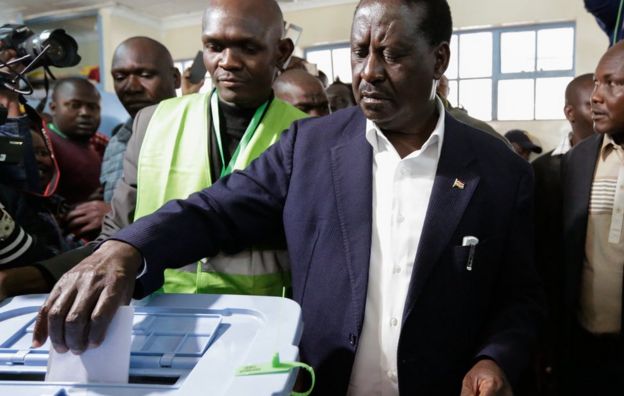 These suggest Mr Kenyatta is heading for a first-round victory.
However, it has been emphasised by the IEBC that these results are preliminary, and have yet to be certified officially.