Match Preview
Mumbai Indians have won four of their last five matches and will look to continue their excellent run in the tournament when they face Kings XI Punjab in Indore on Thursday.
The two-time IPL champions had a disappointing start to this year's tournament when they lost to Rising Pune Supergiant. However, MI have completed a record four consecutive run chases since then and thanks to this brilliant display, Rohit Sharma's men are currently second in the league table with eight points from five matches.
On the other hand, it has been a disappointing week for Kings XI Punjab. After winning their first two matches convincingly against Rising Pune Supergiant and Royal Challengers Bangalore, KXIP went on to lose three in a row and are currently fifth in the IPL table with four points.
After 18 matches, both teams are deadlocked at nine wins apiece.
But Mumbai Indians have a 6-3 lead in the last nine matches.
2017 IPLSeason 10 Points Table
T

eams

M

at

W

on

L

ost

T

ied

N/R
P

ts

MUM
6
5
1
0
0
10
KOL
5
4
1
0
0
8
HYD
6
4
2
0
0
8
DELHI
5
2
3
0
0
4
MOH
6
2
4
0
0
4
BLORE
6
2
4
0
0
4
PUNE
5
2
3
0
0
4
GUJ
5
1
4
0
0
2
KXIP
beat RPS by 6 Wickets
beat RCB by 8 Wickets
lost to KKR by 8 Wickets
lost to DD by 51 Runs
lost to SRH by 5 Runs
MI
lost to RPS by 7 Wickets
beat KKR by 4 Wickets
beat SRH by 4 Wickets
beat RCB by 4 Wickets
beat GL by 6 Wickets
MI beat KXIP by 8 Wickets in 15.3 Overs
Scorecard
KXIP scored 198/4 in 20 Overs
Shaun Marsh 26(21 Balls4x5)
Wriddhiman Saha 11(15 Balls)
Glenn Maxwell 40(18 Balls 4x3 and 6x3)
Marcus Stoinis 01(3 Balls)
Hasim Amla 104*(60 Balls 4x8 and 6x6)
Axar Patel 04*(5 Balls)
Wicket Takers(MI)
Mitchell McClenghan 2/46(4)
Krunal Pandya 1/29(4)
Jasprit Bumrah 1/30(4)
MI scored 199/2 in 15.3 Overs
Parthiv Patel 37(18 Balls 4x4 and 6x2)
Jos Butler 77(37 Balls 4x7 and 6x5)
Nitish Rana 62*(34 Balls 6x7)
Hardik Pandya 15*(04 Balls 4x2 and 6x1)
Wicket Takers(KXIP)
Marcus Stoinis 1/28(2)
Mohit Sharma 1/29(2.3 Overs)
Match Result - MI won by 8 Wickets in 15.3 Overs
MOM - Jos Butler(MI) for his 77(37 Balls 4x7 and 6x5)
Match Highlight
Kings XI Punjab star Hashim quashed the general perception that he cannot score fast and slammed his maiden Indian Premier League (IPL) ton against Mumbai Indians
Hasim Amla
became the second centurion of the tenth edition of the league after Delhi Daredevil's Sanju Samson agaisnt RPS
Nitish
Rana (MI)was coming at the back of a poor Ranji season and Vijay Hazare tournament for Delhi, which had even seen him being dropped from the side after a string of bad performances. However, two weeks into IPL 10, Rana is creating waves with his hitting prowess
With 255 runs, Nitish Rana is currently the highest run-getter in IPL 2017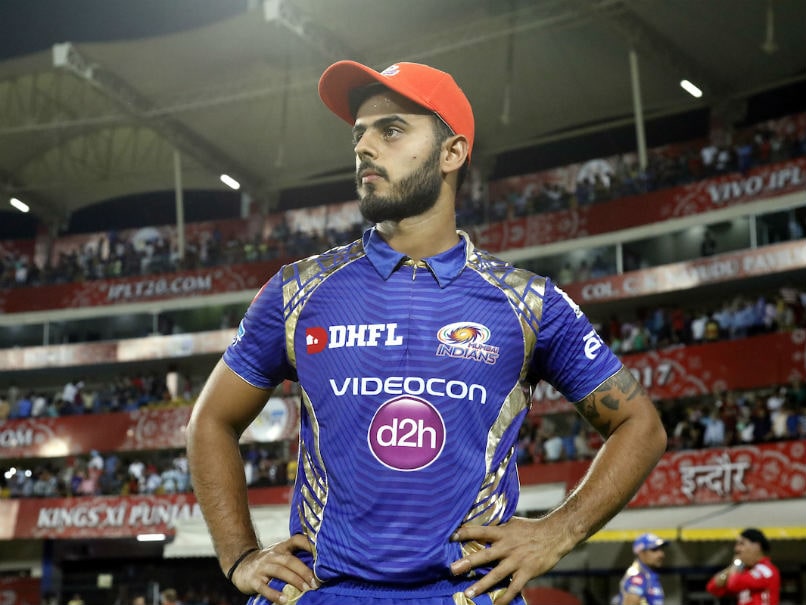 Vs RPS 34(28 Balls 4x1 and 6x2)
Vs KKR 50(29 Balls 4x5 and 6x3)
Vs SRH 45(36 Balls 4x3 and 6x2)
Vs RCB 11(16 Balls 4x1)
Vs GL 53(36 Balls 4x4 and 6x2)
Vs KXIP 62*(34 Balls 6x7)